Admiralty, a prestigious business district in Hong Kong, seamlessly blends its historical significance as a former British naval base with its current status as a bustling hub for financial and commercial enterprises. Its strategic location, nestled between the financial heart of Central and the vibrant Wan Chai, makes it a coveted locale for businesses seeking a balance of prestige and value.
Iconic structures such as the Lippo Centre Towers, the Far East Financial Centre, and CITIC Tower underscore Admiralty's skyline. The efficient Admiralty MTR station ensures effortless connectivity to the entire city, including the international airport, endorsing the district's position as a prime business address.
At the epicenter of Admiralty's business landscape is Pacific Place, a luxury complex boasting Grade A office towers, renowned hotels, and a high-end shopping mall famed for designer fashion and exquisite jewelry. Managed by the esteemed Swire Properties, this area promises unparalleled business facilities adjacent to the verdant Hong Kong Park and the historic Peak Tram, linking to the scenic vistas of The Peak.
Transportation and Connectivity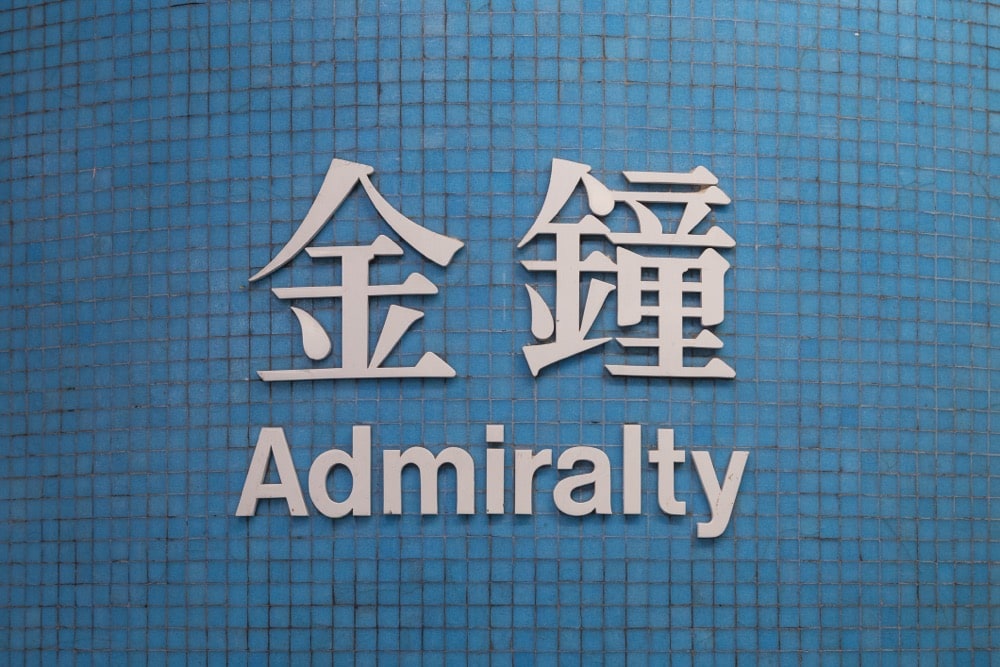 Admiralty, at the heart of Hong Kong's bustling metropolis, is exceptionally well-served by public transport. The Admiralty MTR station acts as a key interchange for several Mass Transit Railway lines, offering seamless connections to various parts of the city, including direct routes to the international airport. Additionally, the area is a nexus for bus routes, including those running on the cross-harbour corridor for easy access to Kowloon. For a scenic commute, the historic tramways and the Star Ferry provide alternative and charming ways to travel, while pedestrian walkways ensure a pleasant and efficient passage for those on foot, making Admiralty an ideal location for professionals on the move.
Local Attractions and Leisure
Admiralty is not only a nexus of commerce but also a vibrant center of leisure and culture, tailored to the cosmopolitan business community. Framed by architectural marvels, the district boasts cultural landmarks such as the Hong Kong Arts Centre, offering a diverse array of exhibitions and performances. The lush Hong Kong Park provides a tranquil escape with its aviary and fountains, perfect for lunch breaks or leisurely walks.
High-end shopping and dining experiences are readily available at Pacific Place, while nearby cultural experiences at Tamar Park and the occasional art installations and events at the former Central Government Complex add to the district's rich tapestry of experiences. Admiralty truly merges business with cultural enrichment, providing a well-rounded urban lifestyle for professionals.
Serviced or Traditional Office Space?
Serviced offices provide a plug-and-play solution for businesses, offering essential services like reception and IT infrastructure, with additional amenities on a pay-as-you-go basis. They allow for flexible lease terms and easy scaling, ideal for businesses from startups to established firms testing new markets. Located in prestigious buildings, they offer instant credibility and networking opportunities within vibrant business hubs, albeit at a higher monthly cost. However, costs are offset by eliminating setup and maintenance expenses, and contracts are simplified for quick move-ins.
Conversely, non-serviced offices are bare properties leased long-term, suitable for larger companies looking for lower running costs and high customization potential. These spaces offer broader location choices and opportunities for branding but require a significant initial investment and a more extended commitment. Tenants manage day-to-day operations and external conference needs, and complex leases necessitate legal advice, leading to longer setup times. While costly for small or new businesses, this option can be advantageous for established entities needing bespoke premises and control over their environment.
Recommended Offices in Admiralty
Elevate your business to new heights at 1 Tim Mei Avenue, Admiralty, where modernity meets convenience. Revel in air-conditioned, fully furnished private offices and coworking spaces designed to foster productivity with ample room for creativity and collaboration. With vibrant, light-filled meeting rooms, break-out areas for brainstorming, and superfast Wi-Fi, your team's efficiency is our priority. Enjoy the added luxury of utility areas with tea and coffee facilities, all while being minutes away from key transport links like the East Rail Line and within walking distance to the Hong Kong Convention Exhibition Centre, shopping, and dining in Wan Chai​​.
Other districts: Central (中環) | Sheung Wan (上环) | Wan Chai (灣仔) | Tsim Sha Tsui (尖沙咀) | Island East (東區)
Office Locations in Admiralty (金鐘)
Transport links
Underground stations

Admiralty MRT

Taxis

Admiralty MRT C2 exit

Bus routes

Admiralty MRT (Exits B, C2, D and between E1 and E2)

Major roads

Connaught Road, Queensway

International airports

Hong Kong International Airport

Boats and ferries

Central and Wan Chai piers