Experience the fusion of traditional and contemporary Hong Kong in the historic Sheung Wan district. Amidst the bustling merchants offering authentic staples such as rice, tea, and traditional Chinese medicine, unfolds a realm steeped in history. Notable landmarks like the iconic Ladder Street, with its age-old stone steps, harken back to the sedentary portage of the nineteenth century.
In the current day, Sheung Wan has elegantly embraced modern entrepreneurship, presenting a unique selection of serviced offices that boast competitive amenities at advantageous rental prices. This balance of old-world charm and modern practicality is especially prevalent on Des Voeux Road, a vibrant artery in Sheung Wan famed for its shopping and dining experiences.
This district sits close to Central, just to the west, and yet the two districts are worlds apart. Sheung Wan sits just hundreds of metres away from Central's key financial buildings but it lacks the array of towering skyscrapers which are so prominent in the skyline of its eastern neighbour.
Transportation in Sheung Wan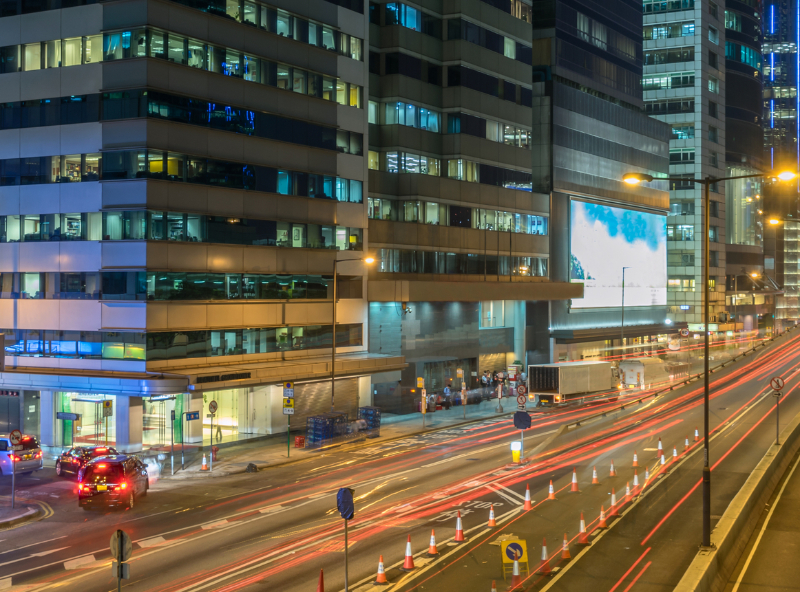 The MTR's Sheung Wan Station is part of the Island Line, offering quick and direct access to the rest of Hong Kong Island and connections to the Kowloon Peninsula. The tramways, known affectionately as "Ding Dings" because of the sound of their bells, provide a historic and reliable means of travel along the northern corridor of the island.
Numerous bus routes traverse major thoroughfares, such as Des Voeux Road West and Queen's Road Central, enabling easy transit to various districts. Minibuses offer more flexible routing for shorter trips. Taxis, both the urban red taxis and the green New Territories taxis, are abundantly available for convenient, albeit pricier, door-to-door service. Additionally, the Hong Kong-Macau Ferry Terminal in the vicinity offers sea transport options for those looking to venture beyond the city. These diverse transport modes are essential for the operational and logistical needs of Sheung Wan's businesses.
Leisure and Culture in Sheung Wan
Sheung Wan's cultural fabric is rich, woven from the threads of Hong Kong's colonization in 1841. A century-old market now houses a chic shopping destination, while Hollywood Road boasts an array of antique treasures. The boundary-blurring Soho area, nestled between Sheung Wan and Central, offers a cornucopia of cafés, bars, eateries, and boutique shops.
With the continuous development of new business premises, due in part to soaring costs in Central, Sheung Wan's excellent public transit access and close proximity to Central are attracting more businesses to establish their base here. Sheung Wan not only offers rich historical context but also a competitive edge for businesses looking to thrive in the heart of Hong Kong.
Serviced or Traditional Office Space?
Serviced offices provide a plug-and-play solution for businesses, offering essential services like reception and IT infrastructure, with additional amenities on a pay-as-you-go basis. They allow for flexible lease terms and easy scaling, ideal for businesses from startups to established firms testing new markets. Located in prestigious buildings, they offer instant credibility and networking opportunities within vibrant business hubs, albeit at a higher monthly cost. However, costs are offset by eliminating setup and maintenance expenses, and contracts are simplified for quick move-ins.
Conversely, non-serviced offices are bare properties leased long-term, suitable for larger companies looking for lower running costs and high customization potential. These spaces offer broader location choices and opportunities for branding but require a significant initial investment and a more extended commitment. Tenants manage day-to-day operations and external conference needs, and complex leases necessitate legal advice, leading to longer setup times. While costly for small or new businesses, this option can be advantageous for established entities needing bespoke premises and control over their environment.
Recommended Offices in Sheung Wan
The Tung Hip Commercial Building, strategically located on the bustling Des Voeux Road, encapsulates the appeal of office rentals in Sheung Wan. This established center, with over two decades of sustained success, offers businesses a prime location right above the Sheung Wan MTR station. With rental rates starting from HK$6,700 per month, businesses can secure a prestigious address without the premium cost associated with neighboring Central.
Infinitus Plaza, once acquired by the esteemed Lee Kum Kee, exemplifies Sheung Wan's dedication to high-quality office spaces. Its infrastructure has received significant investments resulting in advanced technological features like Cat 6 cabling and reliable wireless networks. Alongside top-tier office facilities, tenants can enjoy conference rooms and the rare benefit of acoustic insulation, crafting a serene work environment amidst the city's bustle.
Other districts: Central (中環) | Admiralty (金鐘) | Wan Chai (灣仔) | Tsim Sha Tsui (尖沙咀) | Island East (東區)
Office Locations in Sheung Wan (上环)
Transport links
Underground stations

Sheung Wan MRT

International airports

Hong Kong International Airport

Boats and ferries

Macau Ferry Terminal

Taxis

Shum Tak Centre

Major roads

Des Voeux Road, Connaught Road